The Kensington is making a bit of a name for itself in the very competitive high tea market. Tourists flock to London and of course want to indulge their inner Maggie Smith. The first and foremost means of doing so is high tea.
When it comes to high tea, innovation is key and The Kensington seem to be rather good at combining a quirky concept with something altogether easy on the palate.
The Tale as Old as Time high tea, an homage to a certain Disney classic ran for over a year, conjuring up a wave of childhood nostalgia.
Celebrating architecture and history
Then came the tricky question of what to do next. London's skyline provided the answer and the Landmarks menu was born. The images speak for themselves. In short, the entire new menu at Town House is a celebration of London's architecture and history.
As you'd expect of a five-star hotel, the venue itself is something special. It's no exaggeration to say that the venue is the epitome of understated luxury, balancing an abundance of natural light with a subtle cosiness perfect for high tea, which is owed in some part to the various open fires that are dotted around.
Turning to the menu, to start there's a delicious Cockney-inspired favourite of Steak & London Ale Pie and a Colston Bassett Stilton & Broccoli Quiche, both of which are served alongside a moreish bite-sized Crab Cake with Tartare Sauce & Caperberries.
Kitchen wizardry abounds
When it came to the sandwiches, standouts included the Smoked Salmon, Lovage Pesto & Cream Cheese on Brown Bread, Egg and Cress Brioche Roll and a Coronation Chicken Sandwich on Brown Loaf.
It's when one gets to the sweets that the architectural references abound – a mini tray-sized pitstop of London's most famed landmarks. The kitchen wizardry includes The Gherkin crafted from white chocolate with a dark chocolate ganache centre, as well as The Shard which features moist carrot cake and milk chocolate.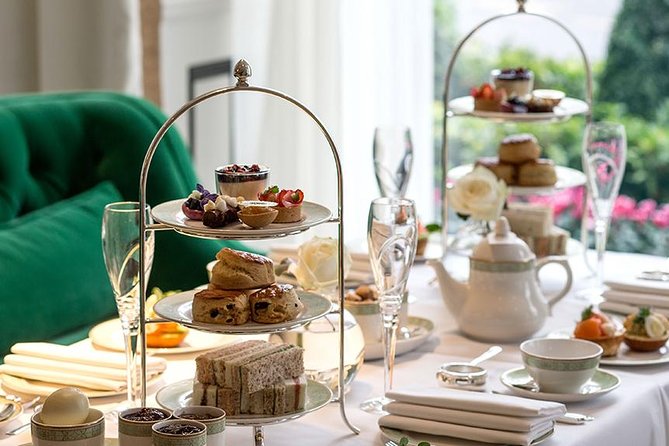 A testament to the engineering skills of the chefs, these delicate offerings came out standing with their contents well and truly contained within which was somewhat miraculous.
No tea would be complete without scones and the ones I sampled did not disappoint. Freshly made and light as a feather, they were perfectly accompanied by Heather Hills Strawberry Jam & Clotted Cream.
A difference that can be tasted
An array of world teas are also on offer and the staff are more than willing to take the time to talk through the various options. I opted for the familiar Earl Grey which was light with a subtle citrus edge – refreshing and an excellent foil for the scones. There's also a Perrier-Jouët champagne option, which may just be a bit more fun!
In short, forget anything resembling tea at the Women's Institute. You may wait a little longer for your first course but it's well worth waiting for.
Unlike many other high-tea offers where sandwiches are pre-prepared and sit under clingfilm, all pastries and sandwiches are made 100% to order and the difference can be tasted
The high tea offer starts at £42 per person or £54.50 with a glass of champagne.
The Kensington Hotel, 109 – 113 Queen's Gate, South Kensington, London SW7 5LP.
Follow BLOW! Magazine on Instagram here.