Taking up residence in the Old Union Arches in Southwark, Bala Baya has set out to deliver Tel Aviv-style dining south of the river. First impressions are promising with the al fresco tables setting the stage for a modern Mediterranean experience.
Spread out over a ground floor and mezzanine, the interior is modern and simple with touches of soft pink running as a subtle theme. Upstairs there's a '70s-style concrete block feature wall, which could have been imported straight from a kibbutz and a perimeter of palms that gives another nod to the East.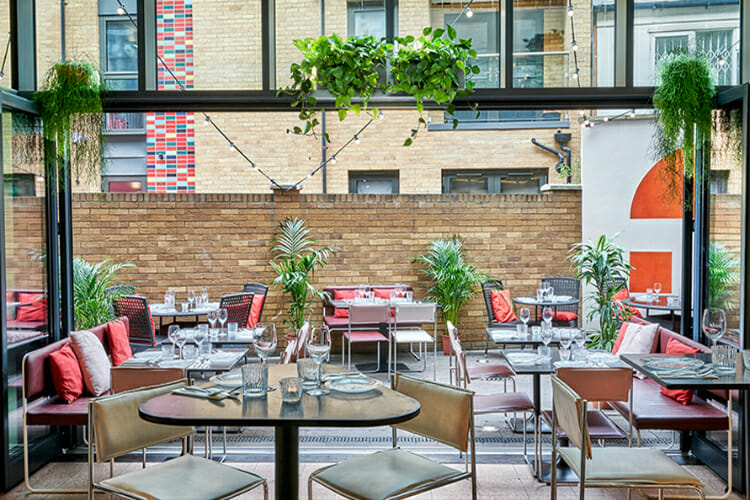 The food comes courtesy of Eran Tibi, a North Tel Aviv native who cut his culinary teeth under Yotam Ottolenghi, so expectations are immediately raised. We investigate to find out if Bala Baya lives up to its Eastern promise.
Sampling the £35-a-head set menu, the dishes on offer encompass small mezze-style dishes engineered for sharing. In typical Middle Eastern-style, first to arrive were the perfectly-charred flatbreads accompanied by a tangy harissa mayo. Bala Baya actually starts the day as a bakery before sliding into restaurant mode. This, combined with the fact that baked goods are made in an oven shipped over from Israel, results in a discernible quality and authenticity.
Next up was the blackened cauliflower crumble in a syrup and yoghurt sauce. It was one of the best dishes and a must-try for the vegetarians out there. Well-balanced and with a thoughtful mix of flavours and textures, the spring salmon followed and came in a light lemon and olive dressing with rhubarb and dill jelly.
The lightly-spiced pink fir potatoes followed and were crispy on the outside and al dente in the middle, serving as the perfect foil for the accompanying horseradish sour crème, which actually made the dish. Next was the beef and onion. Well-braised and subtly flavoured with tahini, it went well with the simple garnish of crisped herbs and onions.
Moving on to dessert, the burnt babka consisted of a rolled, twisted and sweetened bread served with stewed spiced plums, caramelised pecans and whisked crème anglaise. Combining ingredients found in desserts as different as baklava and strudel, it epitomises the East meets West fusion, and although on the face of it, it was an usual summer offering, it was both different and enjoyable.
Once the food was over and the tables were cleared the DJ and his decks appeared and Bala Baya morphed in to a Mykonian cocktail bar. The upstairs table service closed, so to get a drink you have to wait at the bar downstairs and it can take a while, but if all the cocktails are as good as the White Lady we tried, then it's worth the wait.
Follow BLOW! Magazine on Instagram here.